---
From home page......
to make all the classes the best they can be. As martial artists who started as adults, they know how to modify techniques for a more mature practitioner to enjoy without injuring their body. In fact, most people find that old injuries begin to get better the more they train.

At Coquille Martial arts, we feel that versatility is very important. Our curriculum takes into account the needs of each student as an individual. We have students who compete and win at multiple styles of tournaments(from Olympic style tkd to traditional to creative open styled), individuals who work in law enforcement who are working to keep their skills fresh and up to date, and older adults who want a higher level of fitness than offered by our Tai Chi classes.

With classes offered in Coos Bay, Bandon and of course, Coquille, we offer classes suitable to anyone. Plus our rates are affordable, especially for family groups. Come give us a try. We know you will like what you find.

Finally, our instructors spend many hours in professional development, in both martial training and how to better teach the material to our students.
Welcome to Coquille Martial Arts
74 E First St, Coquille OR 97423, 541-396-5576
Our Mission statement: To promote the martial arts in the best manner possible to the community of Coquille the County of Coos, the state Oregon, the west coast and ultimately the world. To show respect and honor to our instructors by promoting our art through honor and respect. To find the value in all martial arts and unite them in one harmonious community. To make our martial arts "family" a cornerstone of that community.
About Coquille Martial Arts
Reliability and Experience you can trust
Coquille Martial arts is family owned and operated by Jim and Karen Saxton. Coquille Martial arts is a fully insured and bonded professional facility, with matted floors for your safety as well as a variety of floor surfaces to give yoour training variety. We offer full dressing room facilities, and plenty of space for your work out pleasure.
Jim and Karen Saxton hold the rank of Fifth degree black belt in Jidokwan Taekwondo which was conferred by Grandmaster Suggs in 2016, who is himself 8th dan, Kukkiwon and 9th Jidokwan. They are also 4th dan kukkiwan with credentials allowing them to confer certification from Kukkiwon , Kukkiwan, in S Korea. Coquille Martial Arts' requirements meet and exceed those of the Kukkiwan, as they endeavor to maintain the highest quality of martial arts training for you. In addition they are a member school of the UNited Hapkido Federation, since 2014. They also teach Tai Chi and are certified to teach the CDC Tai Chi for Better Balance course that helps seniors learn to avoid falls.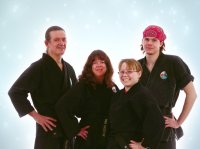 Photo: courtesy of Striking Image
Our History
Jim and Karen Saxton are in their 17th year of teaching and 22nd year of practicing martial arts, following a Coos County tradition that dates back almost three decades when Jeremy and Julie Wolfe opened their school as an offshoot of the Nationally recognized East West Karate System. After the Wolfes left for Medford, Oregon, The Saxtons made the decision to take their school from the TKD based American Freestyle karate back to it's more traditional TKD roots under Master Lee. It was after that they were able to begin working with Grandmaster Suggs on a regular basis. They began their Martial Arts career as adults with many years of life experience under their belts making for well rounded and professional teaching styles. They continue to train under a variety of well known martial arts instructors, including Grandmaster Suggs, 8th dan TKD, Hanshi John Sells 8th dan Shito-ryu karate, Grandmaster Bram Frank, James Williams and more, in order to keep classes fresh and to update and improve their skills and knowledge. By working under a variety of instructors in a variety of styles, they always keep the idea of "being a white belt" fresh in their minds.

Unlike the nearly dozen or so martial arts schools that have come and gone from the Coquille/Myrtle Point and Bandon areas over the past decade, Coquille Martial Arts has achieved success. We point to the acheivements of our students to prove the effectiveness of our instruction. When you join Coquille Martial Arts, you will have the respect and support of the Coos and Lane Counties and the Oregon State Martial arts Community behind you and the knowledge that your instructors will be here for you in the long haul. Feel free to contact one of the Coos Bay Schools as a reference. We know that you will like what you hear. Our dedication and loyalty to the Martial arts means we are here to serve you in the long run.

We are now in our permanant home at 74 E First in the Downtown Studio Building(formerly Barrow's Drugstore) in downtown Coquille. Rates are reasonable, and families can train together in our family classes, or you can train in age appropriate classes. In addition, your child may also take art, dance or music without leaving the Coquille Downtown Studio Building, and the bus drops them off here, insuring that they are safe from the time they leave school, until the time you pick them up here. We also offer clean and comfortable waiting areas, with wi fi access.

With two convenient locations, one in Downtown Coquille and the other in the Bandon Shopping Center, there is no need for you to drive to Coos Bay or Brookings for quality martial arts.
Helping Coos County Youth for 23 years
Owners Jim and Karen Saxton have devoted their time to Coos County youth since 1992, helping build 4-H attendance in the Coos Cnty Fair's small animal barn, hosting 4-h meetings, and most recently by partnering with The Downtown Studio which offers art, dance and music, and also partnering with A Hopeful Tomorrow, and Operation Coquille, 501C organizations to provide martial arts scholarships to at risk and disadvantaged children.
Safety is foremost, and as such you will be treated the same care as if you were family, with an eye for nurturing every individual's personal growth. The study of Martial arts is an ongoing adventure, and thus Jim and Karen Saxton are constantly working to add new material to the curriculum to provide you with a diverse and exciting learning experience.
We welcome practitioners interested in teaching their particular art to contact us, with their certification, resume and references, as we now have two floors available for use in our Coquille facility and there are educational hours available at the Coos Bay location as well. You can be part of our winning team. In addition to Jim and Karen Saxton, members of our staff include: Dane Saxton, 3rd degree black belt who teaches classes at the Coos Bay location on Market St. Nikki Keller, 2nd degree blackbelt, who loves teaching the kids' classes and who also assists with the adults' classes.
The martial are highly beneficial for everyone. Not only will you learn self-defense, gain increased focus and heightened self-esteem, but in addition, you can engage in a martial arts lifestyle that will give you the added benefit of physical fitness, including lowered blood pressure and heart rate and increased muscle mass.


Classes are open for enrollment at any time and as a student you will progress at your own rate.
See the Styles page for more information on the classes that are available to you and your family
Please refrain from applying scented products and perfumes for the health both instructors and your fellow students.


PHP Form by FormToEmail.com

Come and visit! Open 3-7 M-F

Return to Home
---
Last Updated Nov 16, 2017 by Karen Saxton