---
Beyond the Newsletter: A Blog with Pictures
August 9th, the Saxtons were awarded their United Hapkido Memebr School certificate. They had earned their first dan Hapkido certifications June 6th, the day before the Gay 90's parade and celebration, which kicked off a busy summer.
Dane's knee surgery went well and while he is still in physical therapy, he should be back to teaching soon. For those who are not CMA students, Dane injured his knee in a cycle accident many years ago. The knee finally demanded to be repaired. Surgery was at Slocum Ctr in Eugene.
March 2014: Getting closer to our goal of integrating Hapkido into our adult TKD classes. For the time being, Hapkido practice will be Tuesday evenings 7-?
Our Spring Fling Traditional Tourney will kick off the season at the Coquille Community Bldg. Looking forward to seeing new and old faces!
February 2014: Nicole Keller, aka Miss Nikki to our younger students earned her second dan. She is a testament to loyalty to her art and to hard work. Nikki recently earned her BA and is working at Inn at Face Rock where is as indispensible to them as she is to us.
November 2013: Once again, Coquille Martial Arts held its annual fall tourney. Best All Around went to Jes-C Tessman, while Peyton Simonds again took home the 6 and under Grand Champion sword set. Jes-C Tessman also added a sword set to his collection. Looking forward to next November when we will watch the Battle of the Swords!
Saturday December 15th was our last testing of 2012. Bill Scott earned the rank of 1st dan and 12 other students also ranked up.
Oregon Extreme Photography has posted some of the photos for your viewing and purchasing pleasure.
Annual Tournament
November 10th was our annual tournament. 85 competitors, and well over 15 judging blackbelts made for a fun filled and fast paced tournament.
Peyton Simonds brought home the sword set for the 6 and under. Brooklynn took her 4th sword set, and the plaque for Best All Around.
Pictures to be added later - or check our facebook page Coquille Martial Arts Facebook page and like us to stay updated on all our events.
On Saturday, November 10th, more than 100 martial arts instructors and students, along with their families arrived at the Coquille Community Building for Coquille Martial Arts Annual Fall Tournament. This was the largest turnout for the tournament which is in its 7th year, with most of the competition coming from Medford, Eugene and the South-Central coastal region of Oregon.
Medals were awarded to 3rd place in 6 divisions: Tae Guk(Olympic Style) forms judged by Grandmaster Ron Suggs, 8th dan blackbelt and Master Tim Greathouse, 6th dan blackbelts, Traditional Forms, Weapons forms, Creative forms for both weapons and open hand, and Point Sparring. Judges for the divisions were drawn from the attending black belts, with 4 rings running throughout the day. Future plans include adding Olympic sparring and breaking. 7 Grand Champion awards were made in the forms divisions based on age and experience, and a cash prize for black belt sparring. Coquille Martial Arts believe that the martial arts student should be well rounded, not focusing on just forms or just sparring, thus they award a Best All Around plaque to the person who scored highest in the most divisions. Next year they hope to add divisions in Olympic style sparring and board breaking, and plan to combine the creative forms and weapons into a single creative forms division. This year's Best Over All Award went to Brooklynn Lott, 13, from Coquille Martial Arts' Coos Bay school which holds classes in the Green Spot. Brooklynn also earned her 4th sword set in forms, choosing to compete with her winning Tae Guk form, even though she could have used one of her flashier creative forms. Runners up included, Devon Berg, Seth Hamlin and Riley Hackett. Riley lives in Medford and attends Chip Wright's Championship Karate. Brooklynn's Sister, Hope, age 14, who trains at Henderson's Karate placed 1st in forms, runner up for Grand Champion in the Intermediate divisions and first in sparring. The two sisters cheered each other on throughout the competition.
Winners of the sword sets include, Peyton Simonds, 5, Coquille Martial Arts, Coquille, under 6: Brooklynn Lott, Coquille Martial Arts, Coos Bay, 13, 7-17 advanced; Tom King, Henderson's Karate, Coos Bay, Adult Black Belt.
Coquille Martial Arts Standings:
Coos Bay/Green Spot school: Dane Saxton, Adult, North Bend, Black Belt weapons, 2nd
Brooklynn Lott, 13, Advanced, Tae Guk forms, 1; traditional forms, 1;weapons forms 1, creative forms 1, creative weapons forms 1; sparring 1. Grand Champion Forms and Best All Around
Raef Owen, 11, Beginner, Tae Guk forms, 2nd; Traditional forms, 3rd
Bill Brimer, Beginner, Sr Adult, North Bend, Traditional Forms, 1st
Logan Ault, 11, Beginner, 4th place traditional forms
Brody Ault, 8, Beginner, 4th place point sparring
Bandon/Community Ctr School: Max Underdown, Black Belt, Tae Guk forms, 1; traditional forms, 2; weapons 2nd;, creative forms, 2nd; creative weapons, 2nd; sparring, 2nd
Drew Grisham, Intermediate, 11, Tae Guk forms, 2nd; Creative weapons, 3rd; Traditional Weapons, 2nd; Traditional forms 3rd; Pt sparring, 2nd
Jenna Neasan, Beginner, Adult, Tae Guk forms, 2nd; traditional forms, 3rd
Blake Young, Beginner, 10, Tae Guk Forms, 1st; traditional forms, 2nd; pt sparring, 2nd; weapons, 1st
Coquille: Bill Scott, Advanced, adult, tae guk forms, 1st; creative weapons, 1st; Traditional weapons, 1st; traditional forms, 2nd; pt sparring, 3rd
Devon Berg, Advanced, 14, Tae Guk forms, 2nd; creative weapons, 1st; traditional weapons, 1st; tradtional forms, 1st; creative open forms, 1st; pt sparring 2nd
Theresa Hamlin, Intermediate, Adult, Myrtle Point, Tae Guk Forms, 1st; Traditional forms, 2nd; women's point sparring, 2nd
Ty Nicoson, Intermediate, 15, Tae Guk Forms, 2nd; Traditional forms, 2nd
Dilan Chambers, Intermediate, 13, Tae Guk forms, 3rd; Creative open forms, 1st; sparring, 1st
Cliff Johnson, Intermediate, 11, Myrtle Point, Tae Guk forms, 1st; Creative Weapon form, 1st; Traditional weapon form, 4th; creative Open form, 2nd; Pt sparring, 1st
Christiaan Lockwood, Intermediate, 11, Tae Guk forms, 3rd; pt sparring, 4th
Maliyah Lockwood, Intermediate, 9, Tae Guk Forms, 1st; Traditional forms, 1st; Creative open forms, 2nd; Traditional weapons, 1st; pt sparring, 1st.
Howie Harvill, Beginner, Sr Adult, Tae Guk forms, 1st; Traditional Forms, 2nd
Seth Hamlin, Beginner, 14, Myrtle Point, Tae Guk Forms, 1st; creative weapons, 1st; tradtional weapons, 2nd; creative open forms, 1st; traditional forms, 2nd: pt sparring, 2nd Ean Smith, Beginner, 11, Myrtle Point, Tae Guk forms, 3rd; Traditional forms, 4th; Pt sparring 1st
Jared Smith, Beginner, 9, 3rd point sparring
Luke Donaldson, Beginner, 8, Tae Guk forms, 1st; creative weapons, 3rd; traditional weapons, 2nd; creative forms, 1st; traditional forms, 2nd; pt sparring, 2nd
Peyton Simonds, Beginner, 5, Tae Guk forms, 1st; Traditional forms, 1st; flag sparring, 2nd; Grand Champion forms, 6 and under all ranks
First Place winnings from around Coos County:
Henderson's Shorin Ryu: Tom King, Adult, Black Belt, 1st Traditional forms, Grand Champion Sword set for Black Forms. Hope Lott, 14, Intermediate, 1st Traditional forms and 1st sparring. Melanie Cavanaugh, 11, Beginner, 1st Traditional forms. Brian Segren, Adult beginner's men's forms, 1st.
Coast: Logan Crim, Intermediate, Adult men's sparring, 1st
Rising Sun: Jennae Hernandez, Adult women's sparring, 1st
Coast Karate Invite
We were invited to compete at Coast Karate's in-school tournament on JUne 8th. Even though we had less than a week to prepare, and it was finals' week for most of our students, we took 5 competitors and had a great time, celebrating afterwards at Tai's Dynasty in North Bend.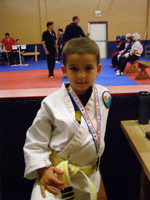 Peyton placed 2nd in 4-6 Flags and 4th in traditional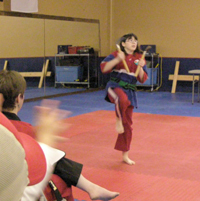 Charisma placed 3rd in 11-13 weapons and 4th in sparring and traditional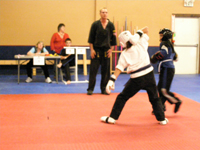 Brooklynn placed 1st in 11-13 traditional, weapons, creative and sparring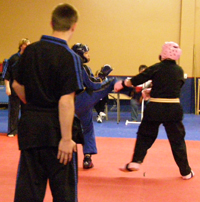 Seth placed 2nd in the 14 and up traditional, 1st in 14 and up weapons, and 1st in 14 an dup sparring.

Dane, instructor at Coos Bay placed 1st in Black belt traditional, creative and sparring and 2nd in weapons.
Chip Wright's Championship Tournament Champions
11 members of Coquille Martial Arts traveled to Chip Wright's in Medford on April 28th and brought home 25 medals.
From the Coos Bay School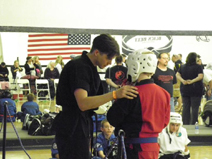 Dane Saxton(instructor, Coos Bay, and coach), 1st in Lightweight BB sparring and creative BB forms, GRand Champ BB sparring, 4th in traditional forms, and 2nd in traditional weapons


Brooklynn lott, 12, INt, 1st traditional form, sparring, and weapons, 3rd creative

From the Bandon School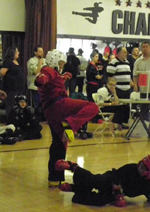 Drew Grisham 11, Int, 4th traditional form, sparring and weapons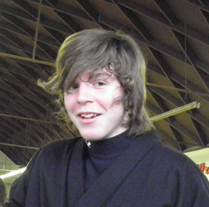 JJ England, 14, 2nd in BB weapons, 4th BB sparring and creative BB forms

From the Coquille Main School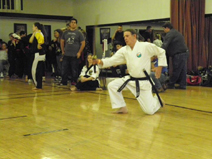 Jim Saxton(instructor), 3rd in traditional weapons, and 2nd creative forms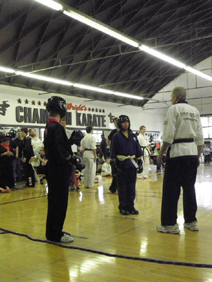 Seth Hamlin, 14, beg, 4th (as the only beginner) in INt traditional forms, and 2nd in sparring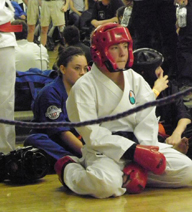 Devon Berg, 14, 3rd traditional sparring & weapons, 2nd in sparring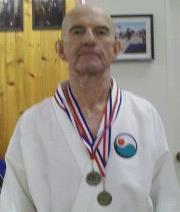 Howie Harvill, 3rd lightweight Beginner sparring, 2nd Sr sparring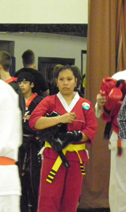 Theresa hamlin, 2nd lightweight beginner sparring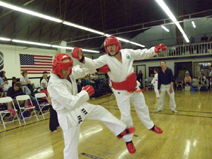 Alden Hamlin, 2nd in heavyweight beg sparring, 1st Sr spearring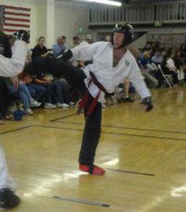 Bill Scott(assist instructor, tots instructor), 1st in adv Traditional forms, weapons and creative forms, and 3rd sparring
2012!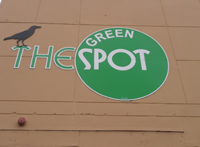 2012 has already seen many changes. We have opened a location at the Green Spot in Coos Bay. We are proud to have Dane Saxton teaching classes at this location. Dane is an outstanding athelete and inspires his students with his high kicks and kicking speed.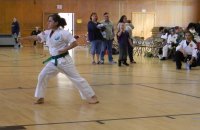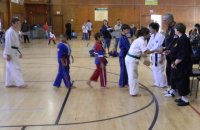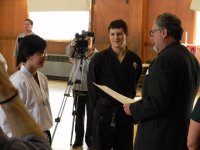 November 12th Tournament
Martial Arts students from all over Oregon convened at the Coquille Community Building on November 12th for their annual tournament. At stake were the coveted Grand Champion forms trophies: traditional style Japanese sword sets, and a plaque for Best All Around Martial Artist. Winning the top honors were, Brooklynn Lott, 12, at Coos Bay, studying at Coquille Martial Arts, Grand Champion Intermediate forms, and Dane Saxton, North Bend, also of Coquille Martial Arts went Best Overall Martial Artist, with Tianna Huffman also of Coquille Martial Arts, runner up for best overall. Best Overall takes the wins each competitor makes and tabulates points for each. Other local martial artists included Tom King from Henderson's Shorin Ryu of Coos Bay, Grand Champion BB forms, Madison Latta, from Reiss' East West under 6 Grand Champion forms.
A special presentation was made by Grandmaster Suggs, who presented Jim and Karen Saxton, owners and head instructors of Coquille Martial Arts, with certificates for 4th Dan in Jidokwan Taekwondo. There are 9 Dan ranks or degrees that one can earn in Martial Arts. 4th degree earns a Taekwondo instructor the title of Master, and is considered an international teaching rank. There is a saying in the martial arts that the first three dans are about what you received from martial arts, and the subsequent dans are about what you gave back to them. The Grandmaster also presented Kukkiwon 1st dan certificates to Tasha Napier of Eugene, and Franklin Smith of Coquille. The Kukkiwon is the certification headquarters of the World Taekwondo Federation(WTF). Jidokwan is a Taekwondo style that is allied to WTF, but has for its main focus more traditional martial art and less sport. Because the emphasis is on becoming better at the art, and not on winning at all costs, injuries tend to be minor: bumps and bruises. Sports that emphasize winning at all cost, especially team sports, where simply bowing out is not an option, sends more athletes to the emergency room. At Coquille Martial Arts, tournament practice sessions help them solidify their forms and sparring techniques for testing. It also gives all the students a break from their usual curriculum, making them all eager to get back into their regular training "routine." Tournaments, while not required in Jidokwan, allow students to test their skills against others of their age and experience and to make new friends from other martial arts schools. Tournaments also help students with public speaking skills, boosts their confidence, and gives them a reason to practice outside of the martial arts studio. "The students from Coquille Martial Arts who competed at this tournament showed a big jump in their growth as martial artists," said Jim Saxton, head instructor.
Coquille Martial Arts Final Scores:
Luke Valleli, 7, Bandon, 1st forms, 2nd sparring
Maliyah Lockwood, 8, Coquille, 1st forms, 1st sparring
Cliff Johnson, 10, Myrtle Point, 2nd weapons, 2nd forms, 1st sparring,
Christiaan Lockwood, 10, Coquille, 2nd sparring
Drew Grisham, 10, Bandon, 3rd forms, 2nd weapons, 3rd sparring
Vincent Thrash, 10, Coquille, 2nd forms, 2nd sparring,
Jacob Valleli, 10, Bandon, 1st forms, 1st weapons, 1st sparring, 1st creative weapons
Tianna Huffman, 11, 2nd forms, 2nd weapons, 3rd sparring, 1st creative open, 1st creative weapons
Brooklynn Lott, 12, Coos Bay, 1st forms, 1st sparring, 1st weapons, 1st creative weapons - Grand Champion Forms
Dilan Chambers, 12, Coquille, 2nd forms, 2nd forms, 1st creative
Ty Nicosan, 14, Coquille, 1st forms, 1st sparring
Seth Hamlin, 13, Myrtle Point, 2nd forms, 2nd sparring
Devon Berg, 13, Coquille, 1st forms, 1st weapons, 2nd sparring,
Kaitlyn Davidson, 14, Coquille, 2nd forms, 3rd creative open hand, 1st creative weapons
JJ England, 14, Bandon, 2nd sparring, 2nd creative open hand, 2nd creative weapons
Alden Hamlin, Adult, Myrtle Point, 4th form, 1st sparring
Theresa Hamlin, Adult, Myrtle Point, 2nd form, 2nd sparring
Brendon Thrash, Adult, Coquille, 1st form, 3rd sparring
Mistydawn Huffman, Adult, Coquille, 1st form, 1st sparring
Corliss Stanton, Adult, Myrtle Point, 3rd form, 4th sparring
Bill Scott, Adult, Coquille, 2nd form, 2nd sparring, 1st weapons and 1st creative weapons
Tasha Napier, Adult, Eugene, 2nd form, 3rd weapons, 2nd sparring
Franklin Smith, Adult, Coquille, 4th form, 1st weapons, 3rd creative weapons
Dane Saxton, Adult, North Bend, 3rd Form, 2nd weapon, 1st sparring, 1st creative open hand, 1st creative weapon, Best Overall Martial Artist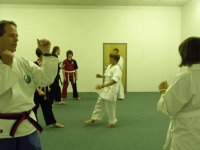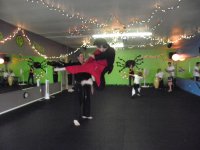 Change is the only Constant, or we are all in transition.
October 26th was our last class in the Bandon Shopping Center location we held for over 4 years.
October 29th marked our transition into Absolute Balanceon Hwy 101 across from Price and Pride. Absolute Ballance is Corrie Johnson's brainchild: fitness classes, massage and spa services in one building. But Absolute Balance is what the well trained martial artist seeks. Balanced self, balance with others, balance with the universe.
We learn to breath in such a way as it makes our body work at maximum capacity with minimum stress. Efficiency over strength and power. Concern for one's fellow man rather than destruction of the fellow man. Balance.
It is what we strive for, even as we are all still in transtion. If one leaves the stage of transition it is because one dies: whether that is physical or spiritual, emotional or mental. Growth is transition. The person you were ten years ago, is not the same as the one you are now. Transition. Each new experience adds a layer to yourself, brings you one step closer to balance.
May 22nd
Last night was our annual Belt Grad ceremony held in conjunction with CREATE's dance recital. Our testing class ranged in age from 7 to 67, and all testers did a great job. At the ceremony we gave a brief history of Tae Kwon Do and why it is such a versatile art, great for people of all ages and abilities. Our students showed their forms, self defenses and a musical form, and as instructors we showed off some of the higher level things that we do and teach. Afterwards we stayed and watched the dance recital. Dance moves have their roots in martial arts, and dance has in common with martial arts, the ability to build discipline and fitness, and improve self confidence. Our next big event is in two weeks, when the Gay 90's parade and celebration comes to Coquille. The Gay 90's refer to the 1890's, a period of expansion and hopeofulness in the USA, that has been unparalleled any time since. It is also the period in which our little town was founded. At Coquille Martial Arts we support our community in its ups and downs. With recent lay offs at the mill we recognize that many will have to tighten their belts. Thus the focus of this year's Gay 90's is our scholarship drive. We will be hosting a cakewalk for supplementary funding for any child in the county who cannot afford martial arts andwould like to train. We will also have our fundraiser for Hopeful Tomorrow which funds at risk children completely. When a member of our studio asks if you can sponsor them in their fund-raiser, please open up your hearts, even if all you can offer is a dollar. Some of the children on scholarship have escaped from abusive situations, others are in single parent households with limited funding. Each and every one of these chidren is finding strength through the practice of martial arts. So come on down June 4th to the Downtown Studio in Coquille and watch our kids march in the parade, demonstrate their skills and break boards to help those less fortunate then they. In between demos, take a walk in our cake walk and take home some delicious goodies foor your family's delight. We will also offer trial classes for those who want to see whether the martial arts are a good fit for their lifestyle.
April 25th
I recently shared an article(on our Facebook page) on teaching children success through perseverance. In martial arts this is a natural, as long as the parent encourages the student to stick with martial arts through the first 3 or 4 belts. Then the child gets the opportunity to wear a colored uniform, start weapons forms training, and perhaps even help others learn. It's a win-win situation for everyone.
But this is something that can and should continue outside the dojo as well. Think of everything your child does, from school projects, to reading a book, to scouting, 4-H and team sports. "You start it, you finish it," shoudl be every parent's motto, at least within reason. If a child wants to quit something, it is the parent's job to find out why. Is there some sort of bullying going on at the activity? Is the child afraid they will fail or get hurt? Fear is a good thingsfor them to overcome. Or are they simply thinking that if they do X, Y is not available to them? From TV to video games, children have a difficult time with the concept of permanency. Let them tape their television show, or save their video game, or put a bookmark in their book, so they can finish those things later. Bring their friend to class so the friend can watch.
With school projects, especially long term ones, they may need help setting a working schedule for the completion of the project.
Finally, when your child is confronted by guidelines set by others, help them work within those guidelines. This will help them get along in higher education and eventually in the business world. For example, at our studio, reading and homework are expected to be engaged in while the students wait for class. Rather than suggest your child pretend to read, actively help them find a book that will engage them. Point out how this will help their AR points and thus their reading grade at school. And finally, be secure in the knowledge that you are helping your child learn "sticktoitiveness," which is a trait that seems somehow lost in ouor modern society.April 20
April has been a busy month in the dojo. There have been two regional tournaments and our students returned home with many trophies and medals. Another tournament is schedule for June 11, in Portland and we will host a summer fun tournament, as well as many hikes, parades, sparBq's and other events and seminars this summer, with our tournament coming up in November. In addition to the two tournaments, we managed to log 20 hours of personal training time in a variety of seminars and other martial arts training for ourselves. It is our belief that learning never ends, and that any teacher who isn't interested in pursuing an updated education has opened his or herself to becoming stale and dull. Further, "becoming a white belt" allows us to empathize with and more effectively teach our students.
There are many upcoming learning opportunities. May 14th Matt Lowes will be teaching a systema workshop at the Coquille Dojo, and all adults are welcome. Upcoming in June, Grandmaster Suggs is hosting a day long seminar in Tae Kwon Do and Hapkido which is open to practitioners on the west coast. We have fliers posted at both dojos with information on this event. We will also be heading to Seattle in September for another big Systema weekend.
March 2011
In nearly all animals the young engage in combative-predator play. Even young herbivores stalk each other, pounce, run-chase and fight when caught. In some animals this play is quite violent. Young puppies will bite each other by the throat as young as 3 weeks, holding tight until the other puppy squeals a signal to release. Fortunately, no puppies are harmed as a part of this play. In fact, they are learning how to moderate their contact, and failure to do so, results in the intervention of a pack member: mother, father, or other adult. In humans too, our young engage in chasing, catching, holding and squealing.
It was once thought that this play was directly responsible for learning behaviors needed for life as an adult animal(or human). Recently behaviorists have looked at this play in a new light. While it is true that young lions, young kittens, and young canines will translate this play directly to hunting, and killing, they still have to be taught to eat their kill. There is more to this play than meets the eye. Now, they are beginning to realize, young animals engage in this kind of play, and in solo play(which is often a series of random bouncy-jerky movements) as a way to grow the immature brain into the mature brain. The young animal makes a goal(chasing and catching his friend), predicting how things will work(his friend might run straight, or he might twist and turn) and then completing his goal, or reassessing what is needed to complete his if goal. Animals withheld from play as youngsters do not grow up as healthy socialized animals, and they do not learn as well as others of their kind.
Humans too, need this kind of random play, play that involves running, jumping, shaking and other movements to build their brain. What does this bode for the modern human child? Many children do not go out and play in the yard, because their families do not have yards. Many of these children do not go out and play, because there is no one to supervise their play and keep them safe from predators and from themselves. At school, recess time is being cut more and more dramatically as schools fight to maintain budgets. Increasingly our children sit at home playing video games, texting, or watching a world that they have no chance to touch. They literally lose touch with the world around them.
Now quiet time is also good. Quiet time allows the brain to shift from predator play (and the mammalian brain) to human pursuits, which is why schools often transition recess to lining up, and then walking in a quiet orderly manner inside. It is not the quiet time I'm concerned with here: it is the play time. In absence of random play, one must substitute organized "play." Play which has seemingly random movements that make up something larger, which teach the brain to move, in an inner direction. Play which has rules which are to some degree administered by the children themselves(with adults ready and able to mediate) if necessary. Activities like dance and martial arts(and swimming and many other solo sports) offer this type of "play." If I do this I can kick like that, or maybe not. If I jump this way I can clear the obstacle. Or I fall.The child can then repeat the behavior and improve their motor skills, their brain's ability to make determinations and their overall intelligence. They learn consequences of their actions.
Removal of this type of play as a form of punishment when a child has not done well in school is counterproductive. It creates a downward spiral wherein the child, deprived of necessary brain exercise, then does less well in school, and then again less well in social activities. Perhaps, instead, activity should be increased in those doing poorly in school(or socially), and sedentary activities(like Tv and Video games) decreased - except where needed as transitional time. It is, I believe food for thought.
Many of these ideas are in Temple Grandin, phd's book, Animals in Translation
Catching up: March 25th 2011
The months have flown by since the New Year began. And since a picture is worth a 1000 words, I'll leave you with pictures.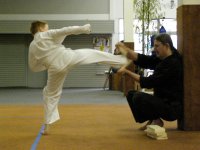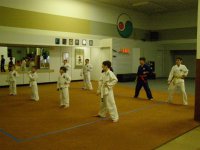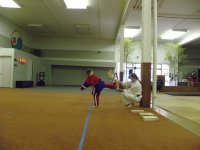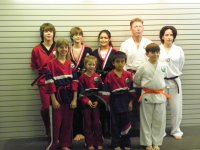 October is Anti-Bully Month
Bullying in the national news: a dad jumps on a school bus threatening the kids who bullied his disabled daughter; a teen age girl is bullied until she commits suicide; a bullied boy brings a gun to school and murders several classmates. All of these scenarios share a common theme: bullying that is allowed to continue because it is ignored. Bullying is not limited to school children. It happens to adults in the office place, the dating scene and the market place. Everyone agrees bullying is a problem, but unfortunately we often unwittingly encourage, rather than discourage bullying with our actions.
Working at the Downtown Studio, I've had to comfort children who come off the bus crying, hurt about something that was said to them at school. Even after teaching martial arts with an anti-bully curriculum, I didn't feel as if I was doing my best, so I started researching the subject. Much of what I found was available in books on communication and police training.
"Ignore him and he'll go away," is the most often given advice. Unfortunately, the old, "sticks and stones may break my bones," generally doesn't work. First, as most children will tell you, they'd rather be hit than teased. Verbal abuse cuts the deepest and hurts the longest.When ignoring the bully, most people also ignore the victim. Thus the victim feels victimized twice, and the bully gets another dig in, without having to say a word. Even worse is when those watching, unwittingly laugh or giggle at what the bully says, leaving the victim feeling even more alone and more devastated.
Then the person goes home and complains to a parent(or an adult to their spouse or a friend) and are told, "It's not worth worrying about," or, "It's not a big deal." This makes the person feel even worse and bullied once again, because after all, they're being told that they are not worth worrying about.
Bullying is a learned behavior. It is not something that goes away with one or two reprimands. Nor does bullying happen in a vacuum. There are three necessary components that allow bullying to continue: the bully, the victim, and the group, which includes bystanders and people in authority who allow bullying to continue. Remove the bully and the bullying stops. Empower the victim and the bullying stops. Neither of these things can happen if the larger group, especially those in authority, refuse to help. It is the group's responsibility to stand with the victim and put the bully on notice that if the behavior doesn't stop, action will be taken.
Perhaps the most important part of the equation lies with authority, whether it is school administration and teachers, or workplace management or law enforcement. If the victim feels they aren't getting adequate support and the bully feels nothing will be done to him, then the cycle continues regardless of how much support the victim might get or how many times the bully is told his behavior is unacceptable. In the case of classic no tolerance policies used in many of our schools, both the victim and bully get punished, and again the victim is doubly victimized and the bully is empowered. In the case of workplace harassment, unless the problem falls under sexual harassment, there are no laws with which either the victim or the authority can fall back on.
One has to remember that the bully only needs for his/her victim to feel bad for the bully to feel good. If others rush to the victims' side, removing the victim from the situation and reminding the victim that the bully only wants you to feel bad so he can feel good, then the bully is temporarily thwarted. This is where ignoring the bully does work. If the group focuses on the victim, removing him or her from the bully's attentions and giving the victim encouragement, the bully feels alone. If this happens every time he or she bullies, the behavior will begin to abate. In the workplace, this can be as simple as bringing the victim a cup of coffee, giving a compliment on their work and letting management know about the problem and insisting that management take a stand. In the school setting, if peers stand with the victim, act as the victim's friend and ignore the bully(and again, asking the administration to deal with the problem), the bully feels left out. Management, or school administration can do the same thing by reassuring the bullied person, complimenting them and ignoring the bully for a short period of time.
In Coquille Martial Arts' ongoing anti-bullying program, students role play the behaviors of bully, victim and group. They learn how assisting the victim while at the same time ignoring the bully feels: from both sides. By doing this, they begin to learn not only the behaviors which will help end bullying, but also will begin to realize how fighting back, without violence can make them feel stronger and more empowered.
Here are a few tips for helping your child at home:
Never trivialize the incident. Acknowledge how hurt your child must feel. Help them find a way to stick with friends or siblings and to move away from bullying elements. Instruct your child to help any victim of bullying move away to a more comfortable space.
Never tell your child, "he likes you!" Even if he does, it is setting her up to accept bullying as something she must endure to be liked.
Do ask the school administration to help. With the recent focus on the impact of bullying on education and student health, schools are beginning to gain new insights on how to prevent bullying.
If your child is identified as a bully, don't try to trivialize the behavior. Instead, look for ways to help change it. In the long run, your child will be happier and more successful.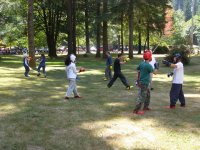 August 21st, found several Coos County martial arts schools convening at LaVerne park for the second annual SparBQ, an afternoon of fellowship, food and fun practicing their skills in sparring as they prepare for the fall tournament season which runs through November, and also to improve their skills in general. Among those present were members of Henderson's Shorin Ryu and Coquille Martial Arts. There are martial artists and martial arts instructors who proclaim loudly that tournaments do nothing to promote martial skill, and some even claim that competition detracts from their martial training. Nothing could be further from the truth. Modern team sports derived as an offshoot of training groups for war. The skills inherent in martial arts tournaments are, more directly applicable to defense, then say, those of football, soccer, or baseball. Yet, if we look closely, we see those things, both in the formation of a team, and in the skills of running after a moving target, hitting a ball with a club in baseball, or taking someone to ground in football. Thus challenging our martial skills in a safe environment helps us with our personal growth and self defense. Kim Singh, head instructor of Henderson's Shorin Ryu, of Coos Bay said, "students who train in the strict isolation of their own schools and never test themselves against other styles and other schools are their own(classmates or students) worst enemies." They get complacent and often assume their skills are superior, when they haven't tested to see if they are at least adequate.
In addition to sparring, students at the Spar BQ did some flag sparring, which teaches foot and body positioning. Family members watched, and even participated in the flag sparring, swam and had fun. This coming together allows students and their families to make friends outside of their own schools, and they learn to be tolerant of different styles and different ideas, bringing them together as a community.
When most people think of martial arts, they think of self defense and fighting. While that is certainly one aspect of martial arts, to say it is the only one is to miss out on all the benefits the activity has to offer. Historically speaking, nearly every martial art has an ethical and or spiritual aspect, a cultural aspect and a health aspect as well as a one of community, as those who developed the arts realized that without these different facets, warriors became nothing more than savages. Not all defense requires physicality. Coquille Martial Arts is aware of the need for diverse training and is launching it's new anti-bully curriculum, which teaches kids (and adults) to recognize bullying and defuse it verbally, and to prevent students from becoming bullies themselves. This will allow students of all ages to handle differences calmly, without violence in school, work and elsewhere.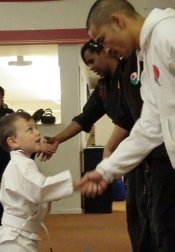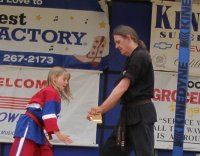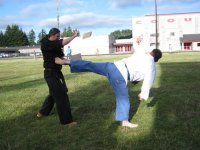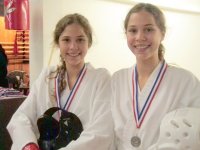 Learning the martial arts, truly learning them, goes beyond stopping a bully who harrasses you in the lunch line(or even at your place of business). To truly learn the martial arts, is to begin to learn your own strengths and weaknesses. And learning one's weaknesses is not a bad thing. Once you know something, and name it, you can begin to control it, rather than allowing it to control you. Even in the case of physical limitations, one can generally move beyond them, once they are known and realized. As a martial arts instructor, this is the best part of my job: watching students overcome the weaknesses they can, and learning to accept those they can't(physical disabilities in themselves, and personality traits in others, for example). This has been an incredibly long two weeks: starting with testing, and finishing up with the departure of two beloved students, who are, along with their family embarking on an entirely new adventure, some 800 miles away.
In between the two extremes, we have had some great classes, both in and out of the dojo. The Coos County Fair and National Night Out allowed us to experience summer(allow we all complained of freezing at NNO) while training, with several hours of demos between the two events, and then if that was not enough we held a small tournament.
It seems as if the very presence of a spotlight is what pushes many people to do their best. All of our people did their very best and I saw growth in everyone who participated in the events, and am proud to have been there to witness it.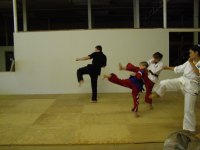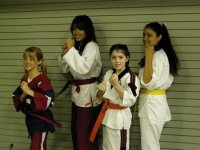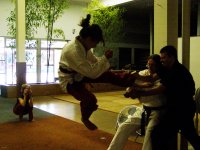 A small testing, but a good one. All high scores and great attitudes, even when guest instructor Dane worked them hard and threw in a few new things to do. Jos's board break was beautiful. Tianna was brave. Ruby unflappable. And Charisma focused. Congrats to everyone.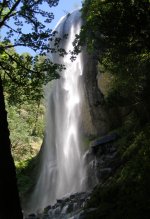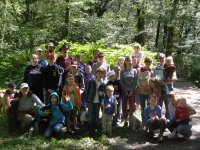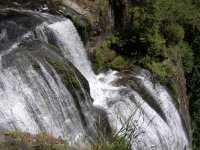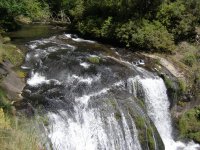 June 26: 34 of us and 3 canine friends made the trip past Gold and Silver falls and to the "old homestead." The day was perfect. We are looking forward to more summer events! keep checking back foor more information
June 15th: Catch up Time!
WE have been incredibly busy for the last several months. Tournaments, Talent show, Testing,and grad ceremony, Gay 90's, and for your instructors, training in kukkiwan TKD. Both head instructors are now card carrying members of that organization.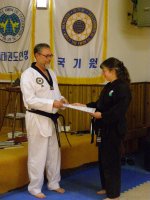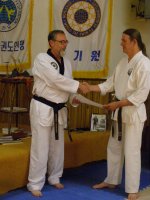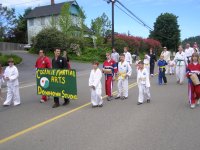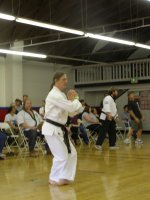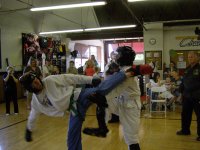 April 17th and 24th had us away at two tournaments. The first was in Salem, hosted by Dave's TKD. It was something of a reunion tournament, as we saw people we hadn't seen in a couple years. Dane competed and took a 2nd in creative forms, 4th in sparring. The next weekend we headed in the opposite direction to Chip Wrights. Chip's is always a friendly toournament with heavy competition, and this was no exception. We still did quite well, with Charisma placing 4th in sparring, Bill 3rd in sparring and 4th in forms and Mr Saxton 2nd in creative, 3rd in traditional weapons abd 4th in forms.
April 10th and 11th: several students tested and achieving new ranks. Congratulations go out to Vincent and Sammy of Coquille, and Riley, Hunter, JJ and Max in Bandon. Afterwards, the Saxtons went to Florence to train in TKD, Sunday was Pac Mac, and the Saxtons as well as 7 from Henderson's in Coos Bay attended.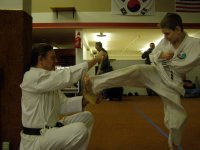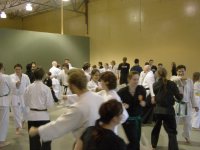 March 6th: Found us hosting two events. IN the morning we had a Coos County Invitational Martial Arts tournament/playday. There were competitors from Reiss's, Henderson's, Red Sun and Coquille Martial Arts(both locations). The afternoon welcomed Matt Lowes of Eugene for a systema workshop on multiple attackers. Tons of fun.
March 1:We welcome Brian Walters to our dojo. Brian will be teaching grappling in Coquille and Bandon and he will be joining our adult TKD class. The grappling class is open to older teens and adults for now.
February 2: Just heard from Chip Wright's Championship karate that their tournament will be on April 24th, and Dave's is the weekend before that. We have a lot of time to train!
February 1:
No, it isn't the Jonestown of Martial Arts. January 30th was Pac Mac and the pictures shows about 100 people participating in a relaxation exercise. Ask anyone who went: it was a great day. 10 instructors in and all day seminar. Followed the next day with a systema seminar taught by Kaizen Taki.
January 16: Spent the evening training with Ron Suggs, 8th dan. We believe this will not only improve our skills, but yours, whether in the tournnament ring, or simply the betterment of your TKD skills
January 8, 2010: The new year promises a lot of exciting events for us at Coquille Martial Arts. We are planning to hold an in-school tournament with the local schools, in order to get ready for the spring tournament season. Asian celebration kicks off in Eugene with Pac Mac also known as the Pacific Martial Arts Conference on January 30th and April 11th. Kaizen Taki will be doing a systema workshop in Eugene on January 31st, and the Asian Celebration itself is February 20/21st at the Lane County Fairgrounds. And last but not least, Jim Mooney is coming out in March to do portraits again.
December 28, 2009 - Looking forward. Our first testing for the new year is to be held on January 9th at the Coquille Dojo.
Pacific Martial arts conference is January 30th, in Eugene. All teens and adults are encouraged to attend.
Dec 9: Saturday December 5th was a great way to spend a chilly Saturday. We had several fun mini lessons(We did Renshi Singh's complex in several classes this week and enjoyed it immenesly). Lots more of these planned for the future! Maybe a summer camp if everyone is interested.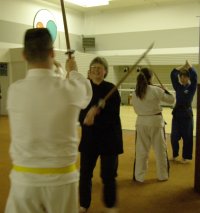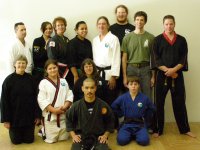 Dec 2nd: Saturday, Dec 5th, is our first all dojos workshop and playday, followed by a systema workshop. Potluck lunch in the middle. Call if you are interested in attending. Pictures to follow
Nov 21st: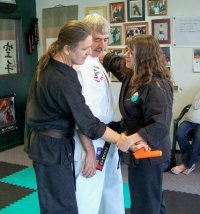 We were invited to come be guests instructors for Tom King's 3rd dan test at Henderson's Shorin Ryu. It was an honor working with all of their black belts, doing a series of gun and knife defenses. Thanks to Kim Singh for the photos more on her website Henderson's
Nov 17:

Congrats Chris on your first break!
Nov 14: TOURNAMENT!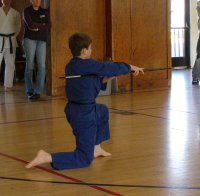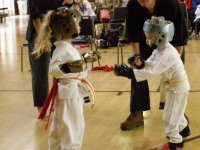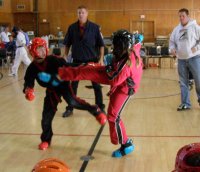 I have to say that everyone did a great job and we're proud of you. Full results on the tournament page!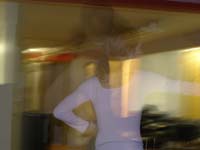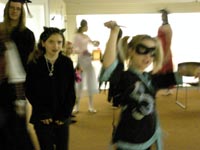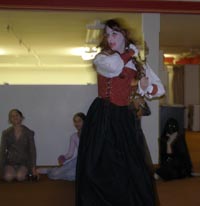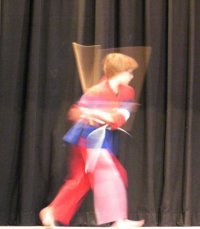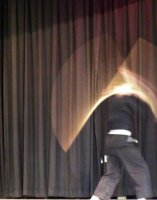 October 24th: Congrats to Max Underdown for earning his Junior Black Belt! And to Tianna, Misty& Brendon who received their belts at the ceremony. If you missed it, Franklin and Max did forms at the talent show that followed.
October 17th" Tournament at Chip Wrights, where pictures say more than words ever could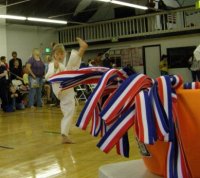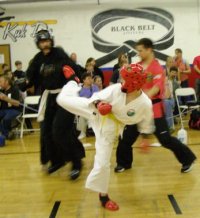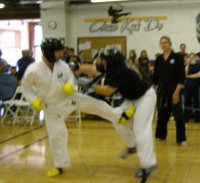 Sept 19th: SparBQ2 was not rained out. The rain stopped the moment we arrived at the park which we shared with a wedding. Good food, sparring practice against people of all sizes and then a hike... or swimming made for a great day. Our team is getting ready for the tournament at Chip's. Tianna was one of my camera people this time, trading off with her mom for gear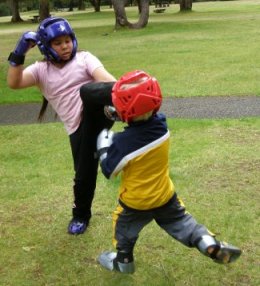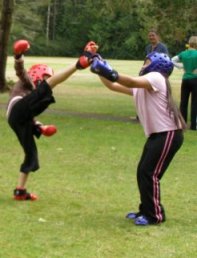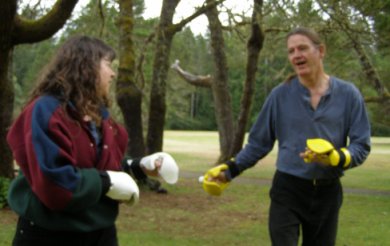 September 9th: Operation Clean Sweep began on Central between the highway and 1st street. As of last week we had 150 pledged toward scholarships and more on the way. Our next clean sweepps will take place after school before the Wednesday classes in short work periods until the weather gives out. The town has noticed the difference we made!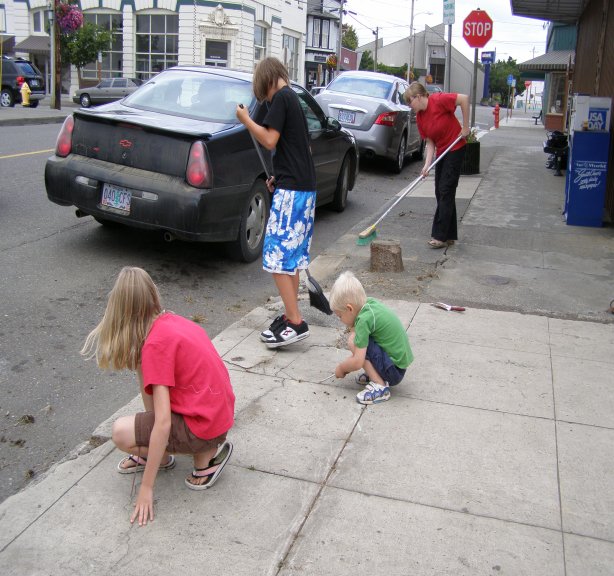 August 22nd: There have been a lot of changes made to the dojo over the last few weeks. The mudding and paint ismostly finished and the mat room is matted. The weapons room has doors, and the place was presentable for our summer fun double header: invitational tournament and systema workshop with Matt.
Now we're working on getting the weapons racks back up, in time for school to start and for students to return from summer break. We also have a page on facebook and a few of the pictures will be different from the ones here. And I just updated pictures on the photo page. Our next big even is our all tournament Nov 14th. Plan on attending and competing.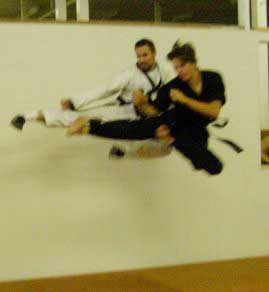 August 8: SparBQ! We had over 50 people in attendance from 3 schools. Over 20 people sparred, and many more tried their hand at flag sparring and padded stick sparring. A fantastic time was had by all. We plan to repeat this next month, while the good weather still holds out for us!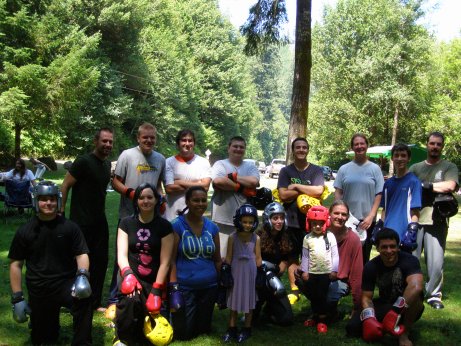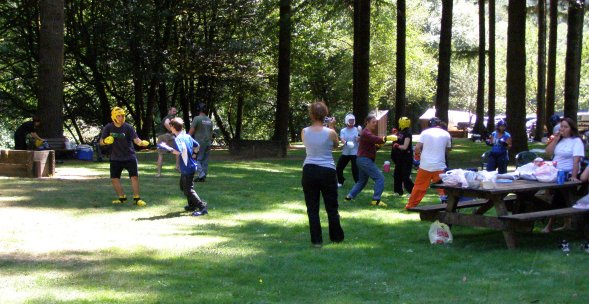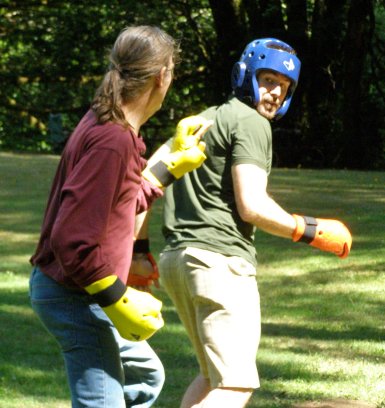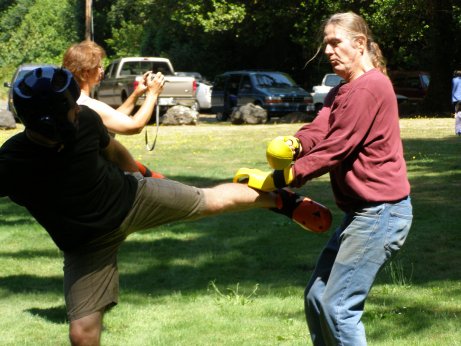 MR S shows Tang Soo Do instructor, David Brussard that the old man can still spar!

Brendan will do anything to get that flag!
July 31: A week of fair demos! More pictures to come as I get them(and more still in the photo album). We've had great attendance each day, including Tuesday which was intensely andmiserably hot. Friday, we really only had our systema and tai chi people and found that we could do a great job entertaining and informing using those two arts primarily. And did anyone know Mr S could do the macarena?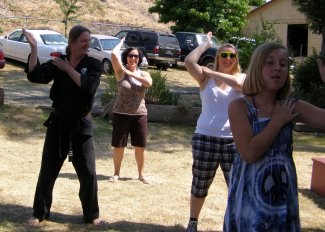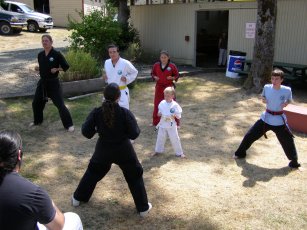 July 14th: What happens when you take a class of TKD students and a bunch of balloons?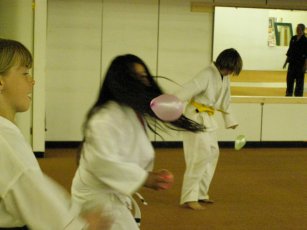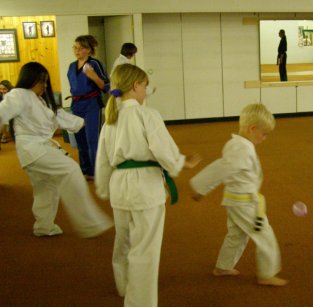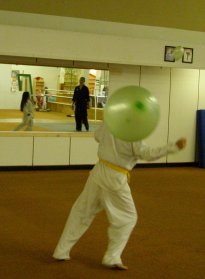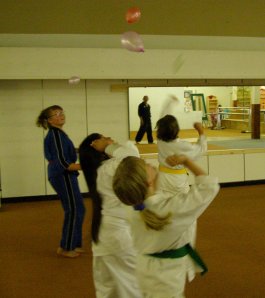 July 4th: found several of us at Bastandorf beach for Henderson's Shorin Ryu's annual 4th of July picnic. Good food and lots oof smoky thing that go bang. Also on the 4th, the bamboo was installed in its permanant home at the coquille dojo. If anything, it makes our already spacious quarters appear more spacious.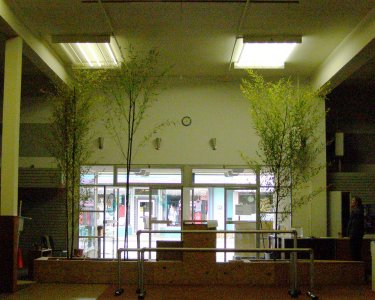 June 6: Gay 90's and the grand unveiling! It was also the first time we've ever marched in the parade. Gotta check out the banner.And the cute kids holding the banner too. It's all for the kids - we're looking forward to summer events. In school tounament and Spar BQ!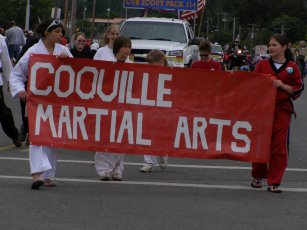 June 5: Today was crunch day, as we know that all of the town will want a look see inside the building and we wanted it to be as nice as humanely possible. In some ways, we did better than expected.

Kayla helped by putting finishing touches on the banner forthe parade.

Cheryl vacuumed the entire "dance floor." I'm going to say that all of our people rocked, and did far more than their share. But we couldn't have beaten the deadline without them. Note that nasty stain. It is now gone, thanks to Frank Smith!

Might be the only picture you see of Mr S vacuuming! This was between classes. I wonder why we're soo tired.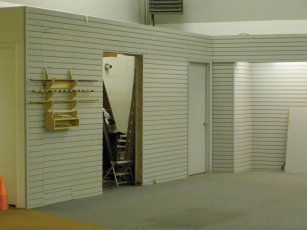 Thanks to Kitty, Brian and Thomas we have the beginnings of a weapons locker. Thomas also modified my desk so my computer actually fits!
June 2, 2009: We have moved! Still in the process of finishing walls and painting and once again, I want to thank our wonderful volunteers! Jeff Taylor, Kyle Smith, Brian and Kitty Noel, Thomas, the Houston and Smith families and everyone else who made this wonderful building possible. It was truly a meeting of minds, hearts and hardwork!!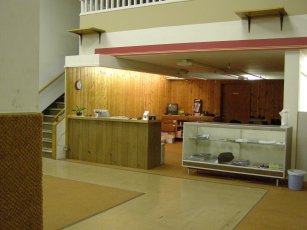 My office is complete.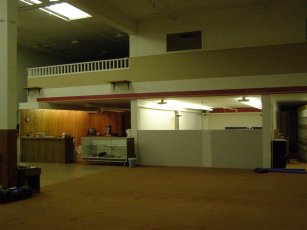 office and small work out room,which still needs paint

seating area, leading to dressing rooms, still under construction
May 23 - 31, 2009: Taking a moment to catch up, so I'll post pictures as they arrive from the remodal.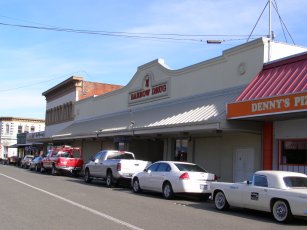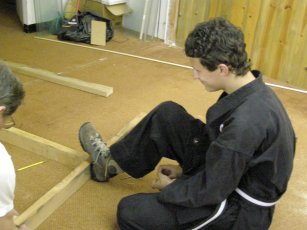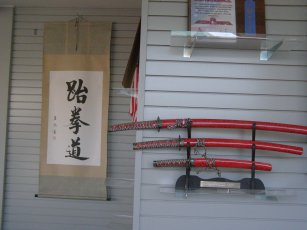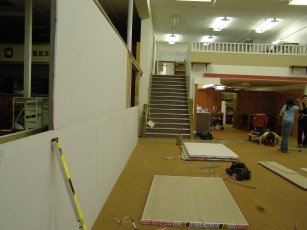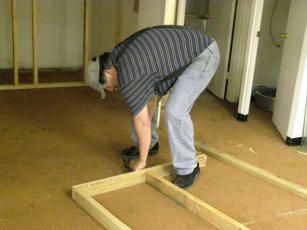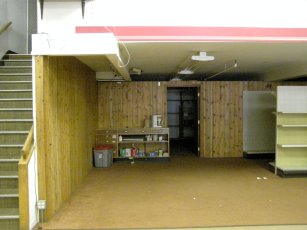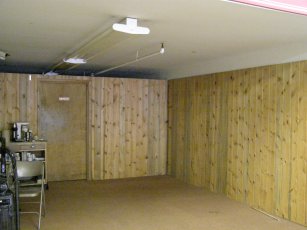 My office before and after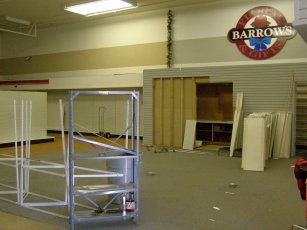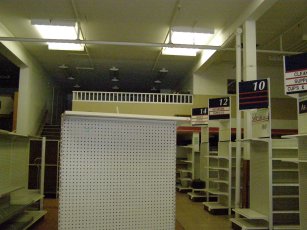 In the midst of cleaning and creating a dojo out of the former Barrow Drug/Jc Penny building and before, untouched(scrolldownto see the balcony and my office underneath after our work).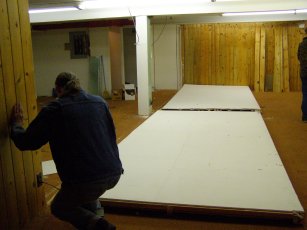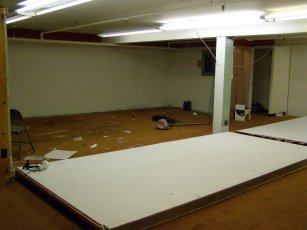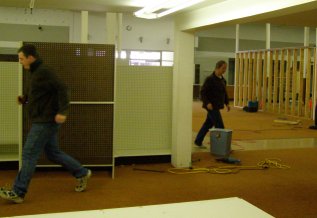 Tear down the wall! Thanks to Brian(who is even more camera shy than I am) and Kitty Noel.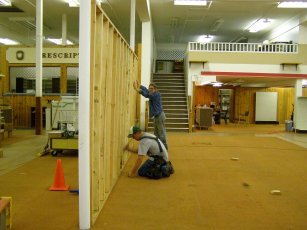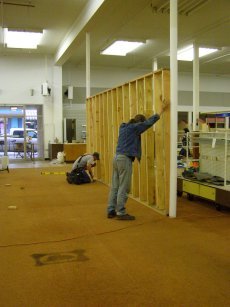 The wall: our thanks to Aim High construction and Kyle Smith.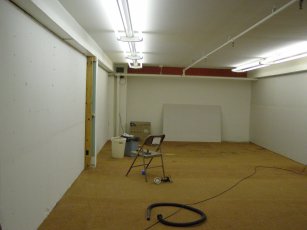 Memorial Day's accomplishments
Honestly, I can't begin to thank everyone who put their time and energy into this project. I feel so blessed.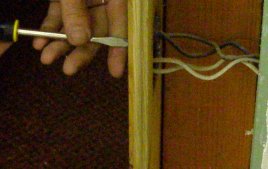 Like every other building in the county. The wiring is abysmal!
May 23rd, 2009: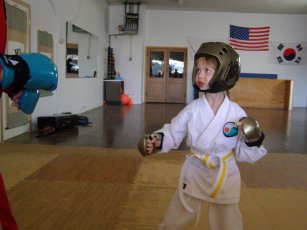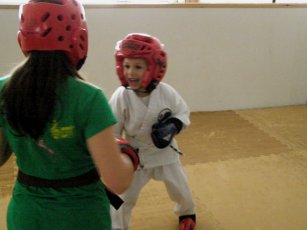 Tots in gear!
May 1st: Looking ahead: We are preparing for our remodel and move. So far, everything looks to be a go, and its just amatter of time. Any and all donations of construction material and assistance welcome. We need: 2X4's, sheet rock, plywood and 3 doors. We also need about 100 SF of large ceramic floor tiles, preferably in earth tones and resembling stone if at all possible. Also on our wish list are a small desk fountain, a waterfall for the entry and some bamboo plants. If you have these items lying around, and no longer need them, please contact Coquille Martial Arts.
April 28, 2009: Congratulations Franklin on earning your 1st Poom. This young man is truly more han the sum of his parts. After he received his belt, I asked him what he liked best about martial arts. His answer: "the ability to learn more about who one is, and how we react in different situations, and that everyone reacts differently, while attempting to achieve the same goal. Also to learn personal security and how to protect oneself and others, while being able to inflict as little damage to one's attacker/opponent, or in other words to resolve conflict without becoming part it."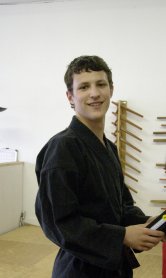 All arts are one was the mantra at the Pacific Martial Arts Conference. And this was never more evident than when Brian Jones of Eugene shaolin demo'd his lesson and said, you folks who do aikido, you know this as.... do that andyou'll get it just right. There were several other lessons that were similar to things we already knew, but with different names and slightly different applications, or way of explaining them. There was also some breand new material as well. And working with people from different schools is always fun. The trip was worth seeing Albert Roy's amazing dojo. We told him we took tons of pictures to insppire us in our future move and remodel and his reply was "cool!" Then on Sunday we went to Alan Best's equally wonderful dojo for a Systema seminar with Kaizen Taki of NW Systema. It was a great weekend, and we'll all benefit from the new material.
Through the bamboo curtain, and a group photo, although its only about half the group

March 28: if you missed the workshop with Matt, you missed a lot of fun. We had visitors from Brookings as well as some of the Eugene group and some of our group. There is something to be said for working out with new people. You learn something about yourself, something about them, something about learning and something about teaching. Martial Arts is truly a communal activity. The three hour class lasted 4 and then only because people started to get tired. Pictures include our "minefield" and Matt and Ryan demonstrating possibilities, Matt and Cheryl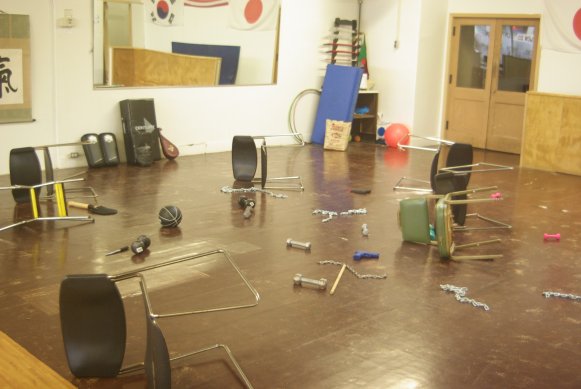 March 21: Kayla, Max, and Jacob all turned out for the board break class. All three broke their boards and worked on perfectingtheir techniques.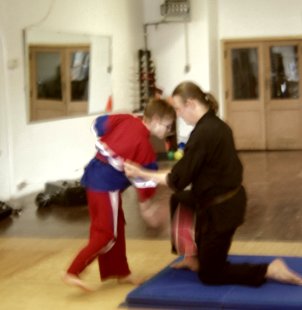 March 7th: Congrats Tasha!! Second place traditional at Daves! For those of you who don't know her, this is a kid who lives out of Coquille and gets here about every other month. She does most of practice at home alone and tournaments are a way of getting feedback on what she needs to work on next.

February 28th: found 23 of us at Coquille Lanes for our annual bowling party, including 6 of the Bandon contingent. Tianna suprised us all with her accuracy! Tom had the high score for the second year in a row, with Dane second highest, 1 point over Mrs S. Afterwards, belts were awarded and we all headed home. It was a good day!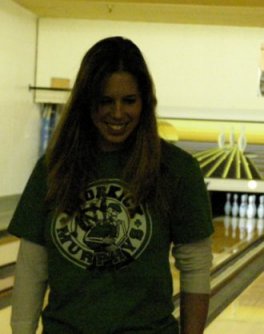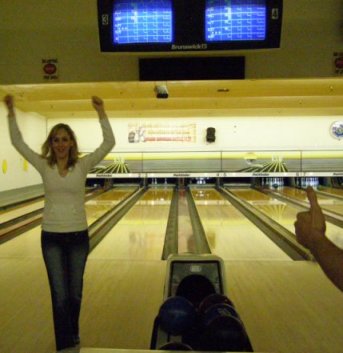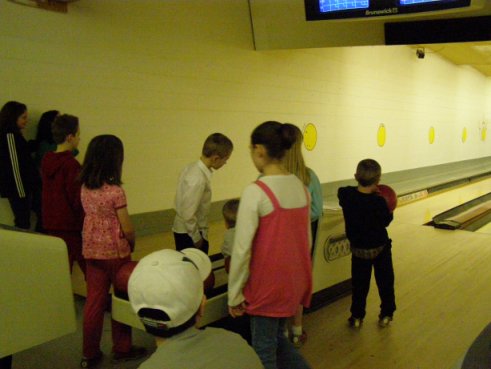 February 7th: 4 students and 15 trophies. We are proud of everyone who attended, whether they competed or not! Pictures: The Huffmans with their trophies; Misty's epic groin shot! Girl after my own heart!; John boy and Misty guard their haul; Tianna holds off her opponent; ; if John-boy wasn't so cute he wouldn't be in so many pictures!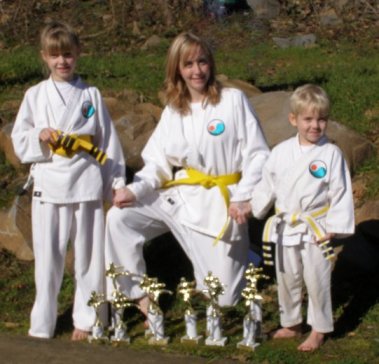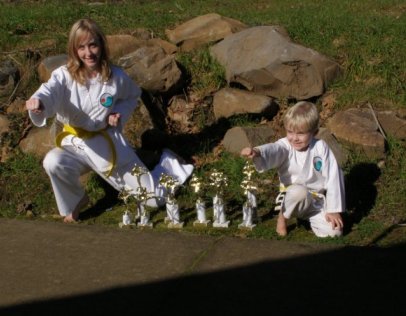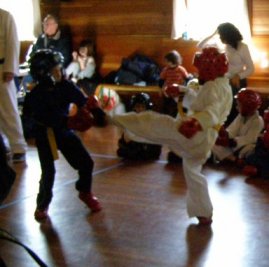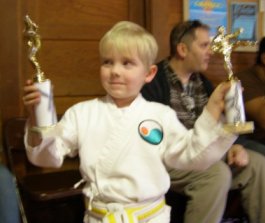 January 31,2009:CONGRATULATIONS NIKKI: You have not only earned a black belt, you have become one, in every sense of the word.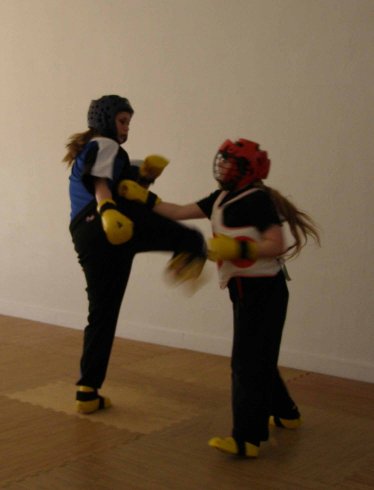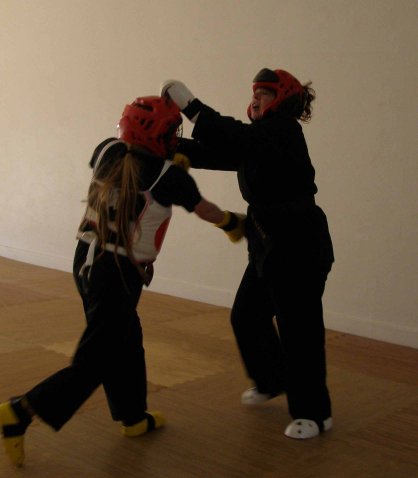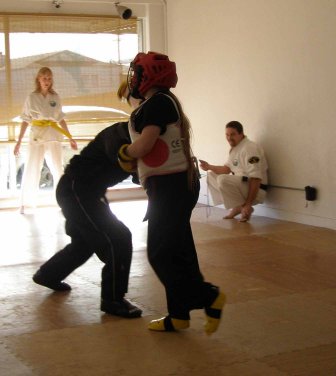 December 6th: Chip Wright's Championship Karate traveled to us! As did members of Henderson's, Reiss's, Eugene Shaolin, Oregon MA Academy, and Robinson's Korean Karate of Sparks Nevada. I must say the coolest thing about this tournament was the bonds we forged and tightened with the other schools, and seeing just how much in the way of quality MA's we have here in Coos County. Several of my students made personal victories and several made some very impressive wins: including Geoffery's tie for best all Around with Hayden Johnston who competed with our newly returned Mariah Langenberg in both traditional forms and Sparring. And Dane made Grand Ch Black Belt Sparring. It was a good day all in all. POsted are a few photos, with more coming soon to the photo page and local newspapers.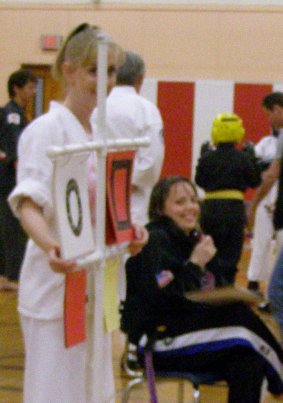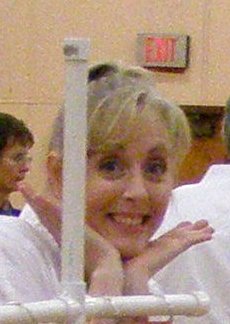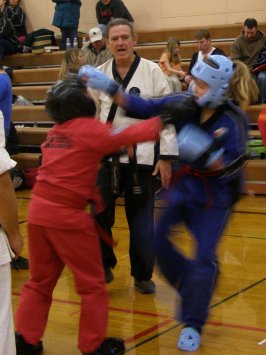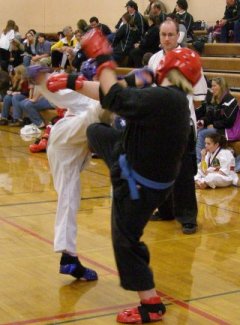 November 8th: We traveled with 6 students to Chip Wright's Championship Karate tournament in Medford. It was a well run tournament, and our kids did awesome. Need I say more? We returned in time to watch 5 more of our students sweating under the direction of Pat and Taryn.
A few of the pictures taken by Cheryl HOuston. Missing Tasha for now. If we can rip one from the video we'll post it! For more of Katie's fight, go to the photo section.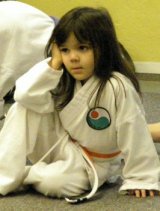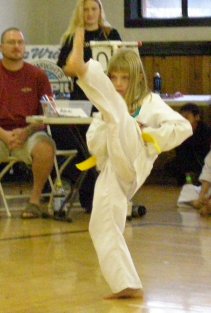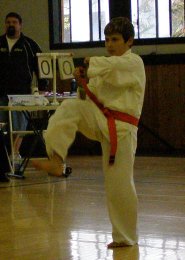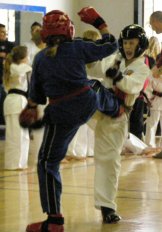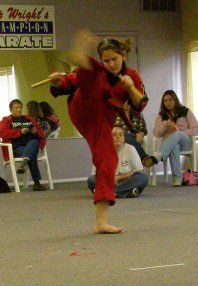 November 1: Jim and Karen Saxton plan on going to the Matthew Lowe's systema training day in Eugene. Any adult is welcome(and teens with instructor approval) to join us. No need to have systema training before you go. This is a very inexpensive, well facilitated 3 hour training session and while we help ourselves, we help Matthew who is a certified instructor in training, move toward his certified instructor status. Plan to get sweaty, learn a lot about systema and yourself and work with some really great people. Check the monthly calender for details. Next week: Chip Wright's tournament in Medford
October 25th: The annual Halloween Party was well attended. Lots of great food, costumes, and fun. I got so many pictures that I'm going to be adding them to the photo 2008 page! Be sure to check back. In the meantime: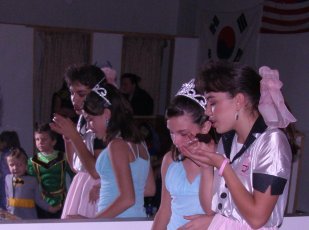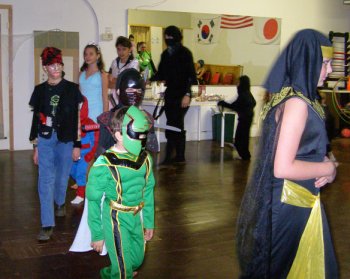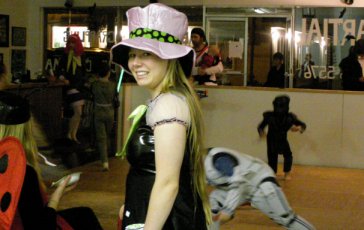 October 18th: Saturday was the Salem Tournament. Jamaica attended and each placed in weapons. Not bad for a tournament where the majority of competitors are working toward the big national events. Both students have been working hard and it showed, with Tasha beinging home a 3rd. Next weekend is our annual Halloween party, with pictures to follow, and the weekend after that we are headed to a Systema training day in Eugene. All are invited. And speaking of systema training, we have been using our new tactical trainer in class, on the recommendation of James Williams. No nasty sharp edges, but the look and the feel of real metal on your skin.

October 4th: Home again and its great to be back where the weather is cool. So what do three martial arts instructors do while on vacation? They become martial arts students. Last Monday the Saxtons all woke up at 5 and wound their way through North County San Diego rush traffic to attend a systema class under James Williams. We got some great instruction from James and his assistants and will be incorporating those lessons into our systema and TKD classes on a regular basis. But before you think that's all we did, here are a few pictures from San Diego: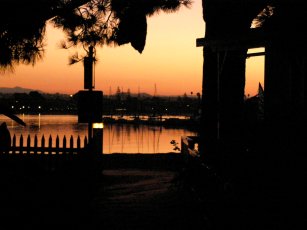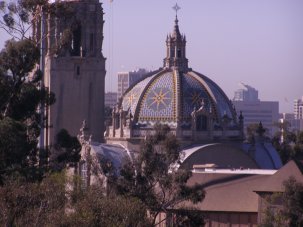 Sept 24th:
Lily and John tested for their yellow stripes and did a great job even with all the distractions... new students and construction on both skylights. Way to go John and Lily! Joe Ortega tested for his green belt and did an awesome job. Joe has been away for two years and started back in August.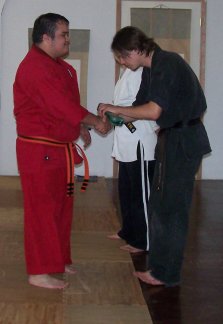 Speaking of the skylights. We now have two new skylights. While I will miss the older big ones, the new ones are guaranteed not to leak! The roof is also being patched in time for the rainy season. And NW Natural is putting in natural gas so we have heat in our future, without worrying about the propane running out.
Sept 12th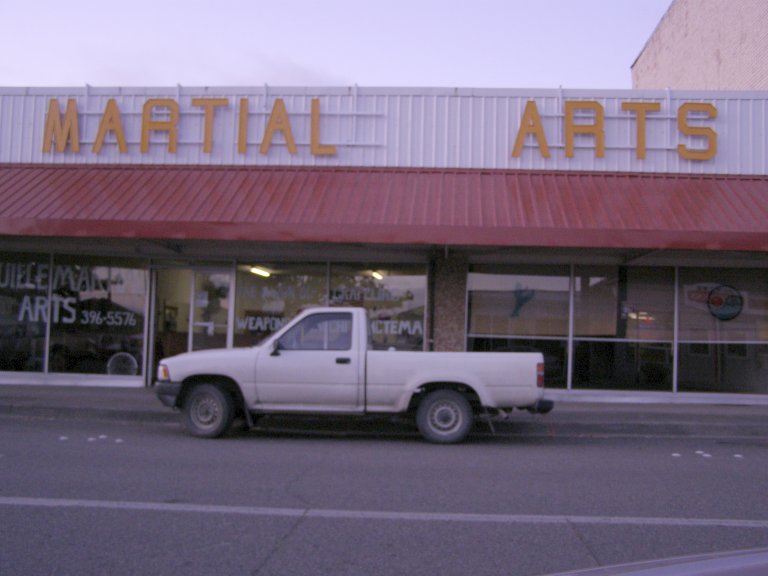 - one week later. The sign!
Sept 6: Now you see it...... Now you don't! The Western Auto sign that is. Keep watching for the soon to be revealed new sign!
August 23rd: I have long thought of a martial arts school as being a family and a group of martial arts schools as being extended families. And that's how it was on the occasion of Tom and Becky's wedding... the union of two houses, as it were. All of us celebrating the joyous event together. I got to spend some time talking with Kim and her three lovely daughters, and especially Kira. And even though the photographer never showed, I'm betting there were enough active photographers there that they get a wonderful wedding album.
August 16th was a busy day for members of Coquille Martial Arts. The morning found us at the Clash on the Coast in North Bend at the Community Center. Tianna Huffman took seconds in both her divisions. Way to go, Tianna!
August 10, 2008: Yesterday was our summer picnic held to honor the kids form daycamp. As luck would have it, half of Coquille, including the chess club was at LaVerne Park. We managed to move in as soon as the chess tournament was over. Which was convenient for us, and for the families who had children in both events.
This is not our main picnic: that one comes in October. Be prepared for tons of food and games and many more awards at that event.
Our day campers walked away with many awards, and bottles of scented bubble solution. Pictures from the fair demos are up on the newest photo gallery. Make sure you take a look there too.
We have some exciting prospects coming up for the following school year, including Korean culture class, our tournament and more. We have announced our new family class on M & W, and this is proving to be quite popular already.
August 1 2008: We are still awaiting pictures from our demos at the fair. I will have them posted when they arrive.

In the meantime, our first annual day camp is a success. So far the kids have learned punches, kicks, blocks, forms and safety. Lots of safety.

In between times, they have been coloring, making sand castles, and watching kid videos. Parents report happy sleepy children heading off to bed when they get home.

Looking ahead: We are preparing for our remodel and move. So far, everything looks to be a go, and its just amatter of time. Any and all donations of construction material and assistance welcome. We need: 2X4's, sheet rock, plywood and 3 doors. We also need about 100 SF of large ceramic floor tiles, preferably in earth tones and resembling stone if at all possible. Also on our wish list are a small desk fountain, a waterfall for the entry and some bamboo plants. If you have these items lying around, and no longer need them, please contact Coquille Martial Arts.

Return to Home
---
Last Updated August 14th, 2014 by Karen Saxton