---
Welcome to Coquille Martial Arts
74 E First St, Coquille OR 97423, 541-396-5576
Our Mission statement: To promote the martial arts in the best manner possible to the community of Coquille the County of Coos, the state Oregon, the west coast and ultimately the world. To show respect and honor to our instructors by promoting our art through honor and respect. To find the value in all martial arts and unite them in one harmonious community. To make our martial arts "family" a cornerstone of that community.
About Coquille Martial Arts
Reliability and Experience you can trust
Coquille Martial arts is family owned and operated by Jim and Karen Saxton. Coquille Martial arts is a fully insured and bonded professional facility, with matted floors for your safety as well as avariety of floor surfaces to give yoour training variety. We offer full dressing room facilities, and plenty of space for your work out pleasure.
Jim and Karen Saxton are members of the Kukkiwon World Tae Kwon Do Federation, and are currently working with Grandmaster Suggs, 8th dan, toward receiving kukkiwan credentials that would allow them to confer certification from World Tae Kwon Do Federation , Kukkiwan, in S Korea. They are also members of the American Jidokwon Taekwondo Federation,and ranked 4th dan through that association. Coquille Martial Arts' requirements meet and exceed those of the Kukkiwan, and American Jidokwon Federation, as they endeavor to maintain the highest quality of martial arts training for you. Jim and Karen Saxton recently tested for their teaching certificate in Hapkido.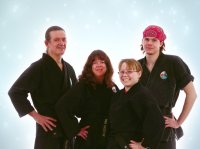 Photo: courtesy of Striking Image
Our History
Jim and Karen Saxton are in their 14th year of teaching and 19th year of practicing martial arts, following a Coos County tradition that dates back almost three decades when Jeremy and Julie Wolfe opened their school as an offshoot of the nationally recognized East West Karate System, teaching a Taekwondo curriculum. After the Wolfes left for Medford, Oregon, the Saxtons made the decision to continue to move their school to the more traditional TKD under Master Lee of Minnesota. It was after that they were able to begin working with Grandmaster Suggs on a regular basis. They began their Martial Arts career as adults with many years of life experience under their belts making for well rounded and professional teaching styles. They continue to train under a variety of well known martial arts instructors, including Grandmaster Suggs, 8th dan TKD, Hanshi John Sells 8th dan Shito-ryu karate, Grandmaster Bram Frank, James Williams and more, in order to keep classes fresh and to update and improve their skills and knowledge. By working under a variety of instructors in a variety of styles, they always keep the idea of "being a white belt" fresh in their minds.

Unlike the nearly dozen or so martial arts schools that have come and gone from the Coquille/Myrtle Point and Bandon areas over the past decade, Coquille Martial Arts has achieved success and maintained their schools' presence in the community. We point to the achievements of our students to prove the effectiveness of our instruction. When you join Coquille Martial Arts, you will have the respect and support of the Coos and Lane Counties and the Oregon State Martial arts community behind you and the knowledge that your instructors will be here for you in the long haul. to the Martial arts means we are here to serve you in the long run.

We are now in our permanant home at 74 E First in the Downtown Studio Building(formerly Barrow's Drugstore) in downtown Coquille. Rates are reasonable, and families can train together in family classes, and in age appropriate classes. At our Coquille location, your child may also take art, dance or music without leaving the Coquille Downtown Studio Building, and the bus drops them off here, insuring that they are safe from the time they leave school, until the time you pick them up here. We also offer clean and comfortable waiting areas, with wi fi access.

With three convenient locations, one in Downtown Coquille and the other in the Bandon Community Center. Our newest school is in Coos Bay's GreenSpot where Dane Saxton is the primary instructor. With three schools teaching the same curriculum, we offer great flexibility for families in Coos County.
Helping Coos County Youth for 17 years
In addition to martial arts, Jim and Karen Saxton devoted much time to Coos County youth beginning in 1992, helping build 4-H attendance in the Coos Cnty Fair's small animal barn. The now partner with CREATE which offers art, dance and music in the Downtown Studio Building, and with A Hopeful Tomorrow, and Operation Coquille, 501C organizations to provide martial arts scholarships to at risk and disadvantaged children.
Safety is foremost.
We welcome practitioners interested in teaching their particular art to contact us, with their certification, resume and references, as we now have multiple floors available for use in our Coquille facility and plan to have three days a week available in our Bandon facility starting in September 2012.
Classes are open for enrollment at any time and as a student you will progress at your own rate.
See the Styles page for more information on the classes that are available to you and your family
Please refrain from applying scented products and perfumes for the health of both instructors and your fellow students.

Schedual an intro class today.

Come and visit! Call for exact times. 541-396-5576
Return to Home
---
Last Updated June 10th, 2014 by Karen Saxton
---